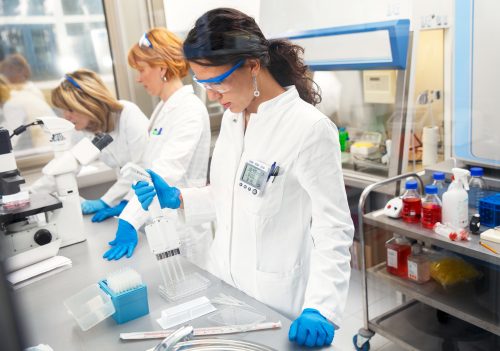 Overview
With some 2,700 establishments employing approximately 20,000 workers, Canada's $2.3 billion testing laboratories industry is an advanced, high-technology sector that plays a critical role in our society and economy.
Testing labs help protect our water, air and soil; the structural integrity of our highways, bridges, buildings and other infrastructure; the safety of our food; and the reliability of the products we purchase.
The industry is also vital to Canada's global competitiveness and productivity as testing labs are engaged, on behalf of customers, in significant research and development aimed at creating new products and services and enhancing operational efficiencies.
In a 2005 Statistics Canada publication (Innovation in Selected Professional, Scientific and Technical Services), testing labs were identified as among the most innovative industries in the country because of "the importance of knowledge synthesis and generation to the services provided and their role in transmitting knowledge through the economy."
The same study found that innovation in the testing labs industry is driven in large part by the sector's responsiveness to customer needs. The acquisition of equipment and machinery was also cited as a critical activity associated with the development of new processes and products.
The industry got its start in the early 20th century with the testing of food. Later radiation testing became important, and then the development of laboratories for environmental testing in the latter part of the century resulted in rapid growth.
Today, both the private and public sectors are increasingly relying on testing labs, with demand being driven by:
Concerns about the safety of food, water and other products
More stringent environmental regulations
Expanding global trade, increasing imports, and diversity of goods
Value-for-money in an era of government constraint
Escalating cost of product liability insurance
Importance of independent testing to brand value
Wages in the industry are well above those found in the economy as a whole. The average annual salary of about $50,000 (2005) reflects the fact that a high percentage of employees have science and engineering degrees.
Many benefits accrue to Canada and its citizens as a result of the industry's investment in this country. In addition to creating higher-paying, knowledge-based jobs, the sector contributes significantly to taxes and GDP. It also supports other areas of the economy through its demand for scientific equipment, technology and supplies.
Lab facilities are located in every province. There are many hundreds of small and medium-sized, locally-owned labs, and about a dozen larger establishments with 200 or more employees.
The larger companies in the industry provide a wide array of services from multiple sites, while the smaller firms tend to focus on certain niche services and defined geographic markets.
Growth in this industry has outpaced the general economy, and will likely continue to do so into the foreseeable future. According to one recent report, the global market for testing laboratories is forecast to reach $77 billion by the year 2017 (Global Industry Analysts, Testing Laboratories: A Global Strategic Business Report, 2011).